The Top Pick for Alkaline Water Filters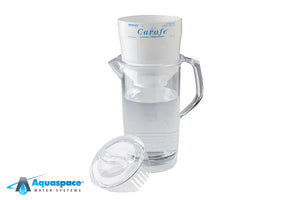 Carafe® with Fluoride & Heavy Metal Reduction & Alkaline Mineral Filter
Aquaspace® sells a variety of alkaline water filters and systems designed to raise the pH of your water to a healthy level of 9. Many customers who are new to the idea of alkaline water or unsure of where to start often ask us what the best alkaline water filter is. To answer them, we've looked at the sales and feedback from our customers, and the answer is clear: the Carafe® with Fluoride & Heavy Metal Reduction & Alkaline Mineral Filter.
Why is this alkaline water filter so popular? Here's a rundown of the great features and benefits it offers, and why customers consider it to be our best alkaline water filter.
3-stage filtering capabilities
The primary reason so many people love this alkaline water filter is because of its three-stage filtering capabilities. Not only does it raise the pH of water, it also filters out pathogens and contaminants, and removes fluoride and heavy metals. Here's a closer look at the three filters this system uses to provide users with the highest caliber water quality. 
Aquaspace® Compound.

This filter removes organic, industrial and agricultural pollutants, including chlorine, chloroform, herbicides, pesticides and heavy metals such as lead. More importantly, however, it

doesn't

remove healthy minerals like calcium, magnesium and potassium. 

Fluoride & Heavy Metal Reduction Compound.

This filter reduces the fluoride added by municipalities to undetectable levels, while also continuing to filter out lead, arsenic, mercury, chromium six and other dangerous heavy metals that might be present in your water. 

Ion™ Compound.

This is the filter that's responsible for raising the pH value of water to 9. It also lowers the Oxidation Reduction Potential (ORP) of the water by -500 mill volts, which reduces oxidative stress on cells. 
High capacity and convenience
Beyond the impressive filtration capabilities of the Carafe® with Fluoride & Heavy Metal Reduction & Alkaline Mineral Filter, customers also love it because of its incredible capacity. The carafe itself holds 60oz of water, making it great for an all-day supply of filtered water. Its filtration capabilities last for 125 gallons or for three months (whichever comes first). This gives you peace of mind that you're getting the most out of your water for as long as the filter lasts. 
Great return on investment
Above all, this is the best alkaline water filter because it provides the best ROI for your money. An investment in alkaline water is an investment in your health. With a price point of $86.95, you're getting the ongoing benefits of alkalized water in a convenient carafe that's easy to incorporate into your everyday habit of drinking more water. And, with the cost of replacement filters just $60.95, you'll get alkaline water for less than a dollar a day for the life of the filter. 
See why it's a top pick
We invite you to see for yourself why the Carafe
®
with Fluoride & Heavy Metal Reduction & Alkaline Mineral Filter is our customers' top pick for an alkaline water filter.
Order yours today
and experience the benefits of healthier water and a lasting investment in wellness.
Leave a comment
Comments will be approved before showing up.