Safe Drinking Water in the New Year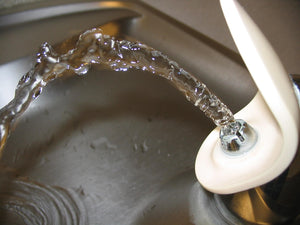 Happy New Year everyone. We hope everyone had a fun and safe holiday. In this new year we want to again call attention to the need for periodic monitoring of your water quality. This is especially important for schools. Many school districts near us here on the east coast are discovering periodic concentrations of lead in the drinking water in our schools. Lead is a colorless, odorless neurotoxin that can negatively affect nearly every body function and can hinder many aspects of brain development in children. This is a serious problem that must be addressed sooner rather than later.
As water passes through the municipal water system and through school pipes, valves, fixtures and other infrastructure, it can corrode the metal over time causing lead to enter the drinking water. In addition, when schools are in recess for holidays, water can sit in the pipes and lead from the lead-based solder used to prevent pipes from leaking can cause a spike in lead concentration. When school is back in session as the water fountains are used, a higher concentration of lead can be found for a short period of time. This is especially true for older buildings.
Nationwide, the average age of school buildings dates to the early 1970s. It was not until 1986 that lead pipes were banned, and it was not until 2014 that brass fixtures were ordered to be virtually lead-free.
According to a study done by the Center for Green Schools[i], schools required to conduct lead testing represent only about 1 of every 10 schools in the country. Those receiving their water from city-owned systems — an estimated 90,000, according to the EPA — are not required by the federal government.
The study notes that only 15 states and the District of Columbia have laws to mandate or encourage lead testing in school water, states that have passed safe drinking water legislation:
California
Colorado
Illinois
Louisiana
Maryland
Minnesota
New Hampshire
New York
Ohio
Oregon
Pennsylvania
Rhode Island
Tennessee
Virginia
Washington
Aquaspace Water Systems is at the forefront of the movement for safe drinking water. Our water filters are used by the District of Columbia Public School System to provide safe, lead-free drinking water to students and faculty. Please read our "Community Involvement" article. 
We want to wish everyone a safe and prosperous new year and thanks for visiting our site.
[i] Perspectives On State Legislation Concerning Lead Testing In School Drinking Water, Nov. 2018 Center for Green Schools at the U.S. Green Building Council
Leave a comment
Comments will be approved before showing up.